The Resource Center for the History of Entrepreneurship is involved with the North American Coordinating Council on Japanese Library Resources, sitting on the Image Use Protocol Task Force, hosting the 2008 Tokyo Conference and compiling a record of the conference, producing the Image Use Guide, and presenting at workshops throughout Europe and North America.

The North American Coordinating Council on Japanese Library Resources (NCC) was established in 1991 as an independent nonprofit educational organization with the goal of supporting Japanese studies in North America.
The NCC works to ensure smooth communication and increase mutual understanding between those who produce and provide information and materials, and individuals and organizations who use the information and materials. This is done not only for current users, but also future users, to ensure comprehensive access to research materials on Japan in all academic fields with an emphasis on the humanities and social sciences.
To that end, the NCC is involved in a number of initiatives, including: 1) encouraging cooperative use of research materials on Japan; 2) procuring and applying funds for cooperative collections development; 3) organizing specialized training sessions for librarians and scholars; and 4) building a close collaborative relationship between libraries/information providers, academics, and aid organizations in Japan and the United States. Within the NCC there are a number of committees that actively work in areas such as access improvement, cooperative collections development, and education/training.


The Image Use Protocol Task Force (IUP Task Force) is one of the NCC's committees for access improvement. The Task Force has compiled a guide on how to obtain permission for educational or scholarly use of Japanese images. Detailed information on activities can be found on the Task Force's website.
▼ Main Activities
2008 Tokyo Conference – "Japanese Images: Using Them to Support Japan Studies Internationally"
(June 23, 2008, International House of Japan)
Scenes from the conference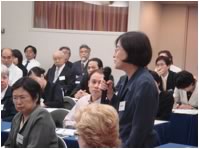 Record of the Conference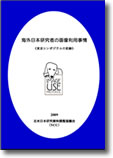 Kaigai nihon kenkyusha no gazo riyo jijo: Tokyo shimpojiumu no kiroku
(The Situation for Image Use by Japan Scholars Overseas: A Record of the Tokyo Conference). Yasue Akio and Koide Izumi, eds. Tokyo: North American Coordinating Council on Japanese Library Resources, 2009. 79p, 21 cm (not for sale)
Table of Contents with PDF links (Japanese only)
Holdings information (Japanese only)
National Diet Library (NDL-OPAC) / NACSIS Webcat / Worldcat / Webcat Plus

Works in English
Koide, Izumi and Eiko Sakaguchi, "Japanese Images for Scholarly Works: NCC's Challenge to Facilitate Their Use" in East Asian Library Resources Group of Australia Newsletter, No. 55, January 2010.
Riggs, Lynne E. "Japan Image Use Conference" in SWET Newsletter, No.120, July 2008, p.38-42.
Works in Japanese
「海外在住の日本研究者による画像利用の実態調査」 『カレントアウェアネス・ポータル』 2008年6月25日掲載
小出いずみ「画像利用の課題―アメリカ出張より」 『青淵』No.704、2007.11、p.46-47
白鳥真理「国際シンポジウム『ジャパン・イメージ - 海外日本研究のための画像利用事情 -』出席報告」 『アート・ドキュメンテーション通信』78、2008、p.22
バゼル山本登紀子、坂口英子、安江明夫「海外日本研究者の画像利用」 『出版ニュース』7月下旬号、2008、p.6-12
北米日本研究資料調整協議会 『海外日本研究者の画像利用事情《東京シンポジウムの記録》』 NCC、2009、75p
林理恵・小出いずみ「研究者の画像利用と司書の役割―『ジャパン・イメージ』シンポジウムから―」 『図書館雑誌』102巻9号、2008、p.657-659
吉村玲子「美術館から画像を入手するための手順―米国の場合」 『博物館研究』43巻9号、2008、p.6-9