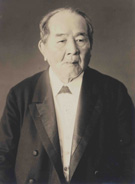 Shibusawa Eiichi in 1924,
a year after the Great Kanto Earthquake
We would like to offer our prayers for those who lost their lives in the recent disaster and extend our heartfelt sympathy to all those who lost loved ones, homes, and livelihoods.
Reconstruction from such an unprecedented disaster will be a challenge but looking to the past to learn about experiences in rebuilding from previous earthquakes may provide some suggestions for the future. Shibusawa Eiichi, himself a victim of the Great Kanto Earthquake, became involved in a range of relief and reconstruction projects. We hope that his story may prove useful to today's world.
It is with this hope that this section of the website has been designed. The site is an ongoing project that aims to include materials such as articles, lectures, original historical documents, and some English translations related to Eiichi's efforts for reconstruction and recovery following the Great Kanto Earthquake. Some of these materials were part of the special exhibition "Shibusawa Eiichi and the Great Kanto Earthquake: Looking to Reconstruction," held by the Shibusawa Memorial Museum in 2010 as part of the thematic exhibition series "Thinking of Peace."
Updated on September 15, 2011