Looking to Reconstruction: Lessons from Shibusawa Eiichi1

PDF version for download [166KB]

The magnitude 9.0 earthquake that rocked eastern Japan on March 11, 2011 came as a major shock to the entire world. In addition to raising questions about the future of Japanese society, which has been drifting along since the end of the Cold War, the quake has forced all of us to fundamentally rethink the way in which we lead our lives. The triple-whammy of a huge earthquake, massive tsunami and radioactive contamination from the nuclear accident has prompted the Japanese public to reassess the path that they have been treading until now. Are we going to be able to overcome this unprecedented crisis and create a new Japanese society that has something to contribute to the rest of the world?
It isn't going to be easy to overcome the challenges that lie ahead. First of all, we probably can't expect much from the government. Unlike after the Great Hanshin Earthquake in 1995, this time around there is no room to maneuver in terms of public finances. The government will obviously set out a basic policy for recovery, but reconstruction work itself will essentially depend on the private sector. Combining a commitment to serving the public's best interests with the entrepreneurial spirit to create a new society, the private sector is set to play a central role. The capabilities of Japanese civil society are undoubtedly going to be put to the test.
At times like these, the first person that comes to mind is Shibusawa Eiichi, who played an instrumental role in the aftermath of the Great Kanto Earthquake almost ninety years ago. A key figure within economic circles, Shibusawa brought together private sector resources from a long-term, international perspective and dedicated himself to ensuring Japan's recovery from the earthquake, working hand in hand with the government. There is a great deal that we can learn from his work and leadership skills.
At around noon on September 1, 1923, the Kanto region was rocked by a massive earthquake with a magnitude of 7.9. The ensuing chaos, including fires and a tsunami, claimed the lives of approximately 100,000 people and had a devastating impact on the entire Tokyo Metropolitan Area. Shibusawa's office in Nihonbashi, Tokyo, was destroyed in the quake, but he fortunately managed to make his way back to his home in Asukayama.
Fearing for their father's safety, Shibusawa's sons encouraged him to head back to the family home in Saitama, only to be told in no uncertain terms that "at times like these, doing your bit to help should be your very reason for living." Shibusawa insisted that he would remain in Tokyo with all those affected by the earthquake and face the challenges that lay ahead. Although aged eighty-three, he nonetheless set about rebuilding, drawing on both private sector resources and his own extensive experience.
Shibusawa found that a number of questions immediately came to mind. What should be done to rescue victims of the quake and give the public peace of mind? How should Tokyo be rebuilt? What role should private citizens play? What would be the spiritual foundations underpinning reconstruction? His approach essentially took into account everything from the immediate crisis to medium-term reconstruction plans, looking one to ten years into the future. He divided measures in response to the earthquake into three stages, focusing on the immediate aftermath, the medium term (three months to a year) and the long term (ten years).
Shibusawa was a victim of the quake himself, having lost his office and important historical documents in the fires that broke out in the immediate aftermath. On September 2, the day after the quake, he sent messengers to acting Prime Minister Uchida Kosai, the Metropolitan Police Department and both the Governor and Mayor of Tokyo, advising them to concentrate on supplying food to victims, building shelters and maintaining law and order.
A new cabinet was formed that same day, headed by Prime Minister Yamamoto Gonbee, who immediately imposed martial law and appointed former Mayor of Tokyo Goto Shinpei as Home Minister. As soon as the cabinet returned from its imperial investiture ceremony, Goto announced a set of four principles for earthquake reconstruction. He set out a precise, large-scale policy stating that: (1) the capital would not be relocated, (2) approximately 3 billion yen would be set aside as an essential budget for reconstruction, (3) the latest urban planning techniques from Europe and the United States would be used to create a new capital fit for Japan, and (4) the government would exercise firm control over landowners when putting new city plans into practice.
That same day, Shibusawa personally set out to secure food supplies. At the suggestion that rice could be brought in from Saitama Prefecture, he contacted the town of Takinogawaku near his home and made the necessary arrangements to procure rice for them. From then until September 12, Shibusawa's own home served as the headquarters for food distribution in Takinogawaku.
As he watched the government's framework and earthquake reconstruction policy taking shape, Shibusawa set about harnessing private sector resources to create and structure an organization that could take action as quickly as possible. This brought the Harmony Society (Kyochokai) into play and led to the establishment of the Great Earthquake Disaster Rehabilitation Association (Daishinsai Zengokai).
The Harmony Society was established in 1919 in an effort to promote cooperation between capitalists and laborers. Shibusawa served as vice president. In those days, there still weren't many capitalists or executives in Japan who appreciated the significance of labor movements, due in part to fears over communism following the Russian Revolution.
On September 4, Goto summoned Shibusawa in his capacity as vice president of the Harmony Society. In addition to consulting Shibusawa with regard to relief for the victims of the earthquake and economic measures (imposing a moratorium, clamping down on profiteering, paying fire insurance, etc.), Goto also asked him for the full support of the Harmony Society as part of the reconstruction process. Goto wanted to make use of the Harmony Society's influence with both workers and capitalists in order to facilitate relief efforts.
Shibusawa agreed immediately to Goto's request and started talking through relief activities the following day on September 5 with Soeda Keiichiro, Tazawa Yoshiharu and other executive members of the Harmony Society. At an emergency meeting on September 8, the society approved a set of post-earthquake reconstruction measures. From that point onwards, they quickly set about dealing with specific tasks that government agencies were struggling to handle, including housing victims, distributing rice, setting up disaster information points and securing temporary hospital facilities.
Next, Shibusawa consulted entrepreneur volunteers such as Yamashina Reizo and Hattori Kintaro regarding funding for relief work and began to set up a dedicated organization. On September 9, Shibusawa chaired a meeting of around forty entrepreneurs at the Tokyo Chamber of Commerce and Industry, which had escaped the disaster undamaged, and proposed establishing an organization to handle relief and reconstruction from a private sector standpoint. On September 11, volunteer members of the House of Peers and House of Representatives got involved and the Great Earthquake Disaster Rehabilitation Association was formed. Headquartered at the Tokyo Chamber of Commerce, it acted as a focal point for private sector relief activities.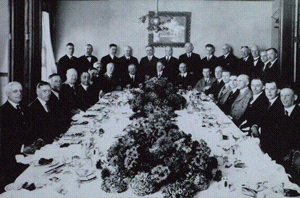 American businessmen in San Francisco, shortly before leaving the United States to go to Japan to give encouragement, November 9, 1923
Shibusawa also looked to the international community. He used his contacts around the world to collect relief donations and funding for the Great Earthquake Rehabilitation Association's activities. He pinned his hopes primarily on entrepreneurs in the United States. Having been to the United States four times since 1902, Shibusawa had visited major cities all over the country and made a great many friends along the way. He was also one of the first to collect relief donations after the 1906 San Francisco Earthquake. The fact that Japan had sent more donations to the United States than any other country had earned Shibusawa a great deal of gratitude.
Having persistently engaged in private-sector diplomacy to prevent the souring of relations between Japan and the United States in relation to thorny issues such as opposition to Japanese immigration and naval treaty negotiations, Shibusawa was known as the "Grand Old Man of Japan" in the United States and had earned a huge amount of trust. At the time of the Great Kanto Earthquake, relations between Japan and the United States were good, helped along by burgeoning economic ties and a growing human network within economic circles, including politicians and intellectuals.
Having been appointed Vice President of the Great Earthquake Rehabilitation Association, Shibusawa gave a personal donation of 50,000 yen and sent out letters about the earthquake to twenty-four of his acquaintances in the United States on September 11. He followed this with telegrams requesting aid on September 13. As news of the earthquake rapidly spread across the United States, leading entrepreneurs such as steel magnate Elbert H. Gary, banker Frank A. Vanderlip and lumber merchant O. M. Clark started to send heart-warming messages of sympathy and encouragement to Shibusawa and organizations around Japan and set about collecting substantial relief donations.
As a result, Japan received more donations than anyone could have expected, along with large quantities of relief supplies. Essentially, this was due to Shibusawa and his fellow entrepreneurs engaging in private-sector diplomacy with the United States over the course of many years. Entrepreneurs up and down the Pacific Coast of the United States, particularly San Francisco, went out of their way to lend a hand. On November 28, a group of entrepreneurs from the region, including Shibusawa's old friends O. M. Clark and Everett Griggs, came to Japan on board the Taiyo Maru to give direct encouragement.
Having harnessed private sector resources to fund the Harmony Society's relief activities and received moral support from overseas, Shibusawa went out to visit people all over Tokyo in order to gather precise information on their actual needs, dedicating himself to relief and re-construction work without a moment's rest. For an eighty-three-year-old, he had an unbelievable amount of energy.
At the same time, Shibusawa was also tackling the medium-term issue of deciding how to rebuild Tokyo. On September 19, he was appointed as a member of the Imperial Capital Reconstruction Council by the Yamamoto cabinet. Having been closely involved in the modernization of Tokyo since 1874, including repairing roads and establishing care facilities in his capacity as chairman of the Tokyo Chamber of Commerce, Shibusawa had his own unique vision for the capital's reconstruction.
Shibusawa wanted to revitalize Tokyo, focusing on its commercial role as the heart of the modern Japanese economy, rather than its role as a military stronghold revolving around Edo Castle, as it had been since the Edo period (1603–1867). Taking the reconstruction process as the ideal opportunity to fulfill this long-held ambition, he abandoned his principle of non-involvement in government and agreed to join the Council.
As a member of the Imperial Capital Reconstruction Council, Shibusawa proposed the construction of the Port of Tokyo and the introduction of the Keihin Canal in an effort to rebuild Tokyo as a commercial city. Although his proposals were not acted upon at the time due to reductions in the reconstruction budget and opposition from the likes of Ito Miyoji, modern day Tokyo has developed into a world-leading metropolis that today is the very image of the commercial city that Shibusawa had in mind. Work is even underway to extend the Port of Tokyo.
Shibusawa realized that, for people to go back to living peaceful lives, physical reconstruction would need to be underpinned by spiritual reconstruction. Having from an early age lived his own life in line with the teachings of Confucius, Shibusawa began eagerly advocating harmony between ethics and business, and Confucian teachings and commerce from around 1912 onwards. Viewing the rapid modernization of Japan and the bubble economy that emerged during World War I as signs of a decline in benevolence and justice, Shibusawa began to condemn politicians for obsessing over political gains and entrepreneurs for focusing solely on their own interests rather than the common good.
Shibusawa came to regard the Great Kanto Earthquake as a form of divine punishment. He criticized the leaders of Japan who had had a hand in modernization, including himself, and started to preach on the role of spirituality in helping Japan through its crisis. He believed that the long-term goal of reconstruction was to create a benevolent society, and that both physical and spiritual reconstruction were essential to enable people to lead peaceful, contented lives.
Viewed from that angle, it is clear that Shibusawa's leadership and involvement in restoration activities after the Great Kanto Earthquake helped eradicate the practice of elevating government above the private sector, which dated back to the 1860s. Since he had had a hand in the establishment of almost 470 companies and strived to promote economic interests, it is also clear that his actions were underpinned by his belief in the harmony between Confucian teachings and commerce (morality and economics) and by the principle of business collectivism (gapponshugi: assembling the best possible people, materials, funding and information from a wide range of sources so as to ensure that business benefits the general public).
Another key factor was the perfect partnership between the public-sector in Goto Shinpei, who set out a grand design that was labeled a pipe-dream but was nonetheless underpinned by rational thinking, outstanding vision and advanced technology; and the private-sector in Shibusawa Eiichi, who managed to quickly and effectively bring together the frayed ends of Goto's dream.
As we rebuild following the recent earthquake in eastern Japan, we need to harness private sector resources, via economic and private organizations, so that we can come up with new visions and ideas, provide support for the government and take action based on a strong sense of responsibility to build a new Japan for ourselves. These are the main lessons that we can learn from Shibusawa Eiichi and his actions following the Great Kanto Earthquake.
This article was first published in Japanese in the April 11, 2011 issue of "Kohokyo meru tsushin," the e-zine of the Japan Association of Charitable Organizations. An English translation was published in the May 2011 issue of The Japan Journal (pp 23-25). The current version has been edited and made available thanks to the kind permission of the Japan Association of Charitable Organizations and the Japan Journal.

Kashima, Shigeru. Shibusawa Eiichi. 2 vols. Bungeishunju, 2011.

Kenjo, Teiji. Shibusawa Eiichi: dotoku to keizai no aida (Shibusawa Eiichi: Between Morals and the Economy). Nihon Keizai Hyoronsha, 2008.

Kimura, Masato. Shibusawa Eiichi: minkan keizai gaiko no soshisha (Shibusawa Eiichi: The Father of Private Sector Economic Diplomacy). Chuokoron-sha (Chuko Shinsho), 1991.

Kitaoka, Shinichi. Goto Shinpei: gaiko to vijon (Goto Shinpei: Diplomacy and Vision). Chuokoron-sha (Chuko Shinsho), 1988.

Shibusawa Eiichi to kanto daishinsai: fukko he no manazashi (Shibusawa Eiichi and the Great Kanto Earthquake: Looking to Reconstruction). Shibusawa Eiichi Memorial Foundation Shibusawa Memorial Museum, 2010.

Shibusawa Study Group (ed.). Koeki no tsuikyusha Shibusawa Eiichi (Shibusawa Eiichi: In Pursuit of the Common Good). Yamakawa Shuppansha, 1999.

Shimada, Masakazu. Shibusawa Eiichi no kigyosha katsudo no kenkyu (The Entrepreneurial Activities of Shibusawa Eiichi). Nihon Keizai Hyoronsha, 2007.