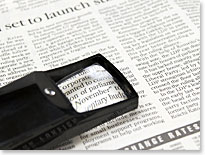 The Japanese language e-zine "Business Archives Tsushin" (BA Tsushin) aims to present information on the management of materials related to business history and foreign business archives in an easy to understand fashion.
The e-zine includes information on international associations related to business archives including the Section for Business and Labour Archives (SBL) of the International Council on Archives (ICA), the Business Archives Council (BAC), and the Business Archives Section (BAS) of the Society of American Archivists (SAA). In addition selections from the publications of these organizations are included in translation.
The e-zine "Business Archives Tsushin" provides international information for Japanese business groups with an eye for service to society and for information specialists with a need for archives-related knowledge and skills.

please read our FAQ for more information


back issues of "BA Tsushin" are available in Japanese


instructions for how to sign-up to receive the e-zine

The Shibusawa Eiichi Memorial Foundation participated in the Japan-US Archives Seminar held at the University of Tokyo from May 9-11, 2007. The goal of this seminar was to look at the exchange between Japan and the US in four types of archives – governmental archives, regional archives, university archives, and business archives. The seminar's public forum was attended by a large number of people from private sector business organization archives. The seminar demonstrated the high level of Japanese interest in business archives and the management of historical business records in the United States.
In response to this high level of interest, the Resource Center for the History of Entrepreneurship, as the information bureau of the Shibusawa Eiichi Memorial Foundation, launched the e-zine "Business Archives Tsushin" ("BA Tsushin").
The Shibusawa Eiichi Memorial Foundation is dedicated to honoring and furthering economic morality based on the principle of harmony between morality and the economy as advocated by Shibusawa Eiichi, known as the father of the modern Japanese economy. We believe that the management of business history materials from private sector business organizations and appropriate archival practices are in line with this goal.
It is our hope that "Business Archives Tsushin" will benefit the management and everyday practices of business archives and thereby contribute to the promotion of business morality.

Due to space restrictions, information in the e-zine is often summarized or provided in abridged translation. Articles of particular interest or importance that have been translated into Japanese in full have been made available on the Information Resources Centerís International Business Archives Bibliography page (Japanese only).