Shibusawa led the first large-scale business mission to the United States in 1909 at a time of tense US-Japan relations. The mission included more than 50 of Japan's most prominent business leaders and notables. They sailed to Seattle on the American ship the Minnesota. After landing on September 1 they traveled from coast to coast and visited various U.S. cities, receiving a warm welcome wherever they went.
The mission made news across the U.S. as it traveled to 53 cities over the course of three months. They traveled in the specially outfitted "Million Dollar Train" that had been provided by the American industrial community. The mission visited chambers of commerce, factories, power plants, fire departments, port facilities, mines, farms, schools, universities, libraries, theaters, churches, hospitals, and many other facilities and sites. Along the way they met with many distinguished American leaders such as President William Howard Taft, Thomas Alva Edison of General Electric, and James Jerome Hill of Great Northern Railway. Through receptions and parties in big venues and private homes, they gained first-hand knowledge of American life.
When they left San Francisco for Japan on November 30, they carried with them fresh information on a wide range of industries in the cities and regions they had visited. This newly gained knowledge of contemporary industrial America was published in a thick report upon their return to Japan.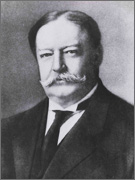 William Howard Taft, 27th president of the U.S.